Tonight's episode is just flat for me..the same thing over & over again..more fight..more slapped..more confession..but for Tan & ES's relationship, they had taken a step forward..good for them..
Lets' start..Tan went to the broadcast room looking for YD. There he realized that YD was not alone but with ES inside. He tried to open the door but YD quickly locked it. He was very furious and vigorously warning YD to open the door before he'll kill him..but YD didn't give a darn and told ES that he will revenge the people around ES, that is KT and himself. After so much kicking..the door opens. Tan rushes in and punched YD. He then grabbed a chair to hit YD but was blocked by ES.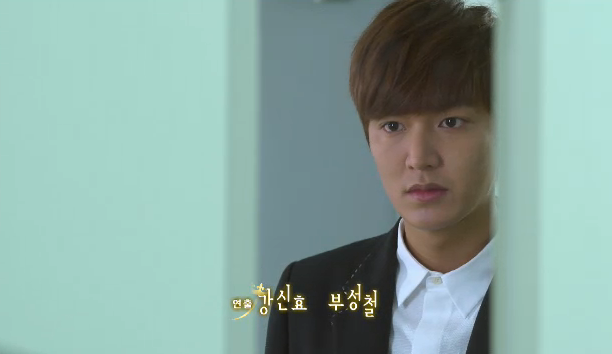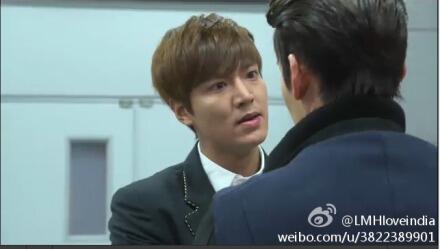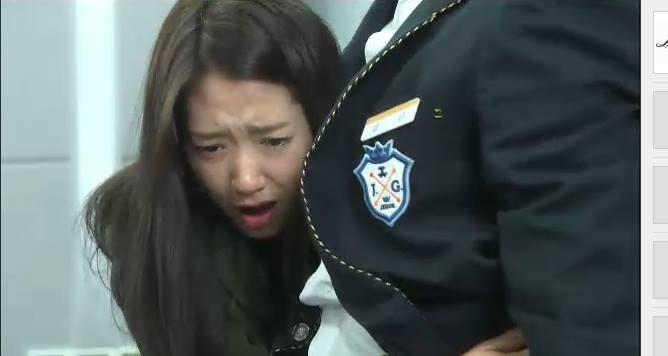 Tan then dragged ES out of the room. He went back in and have a "conversation" with YD. He again warned YD not to bother ES. YD replied he will if Tan give up ES.. Tan ask how long will they keep being like this. YD replied that whenever he looks at Tan, he reminded him losing the chance to have the last meal with his mom. Tan asked him to just accept the fact and moved on. YD instead told him to stop acting like an adult. Tan will end up begging his dad and ES will be hurt.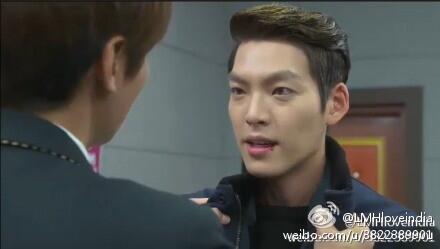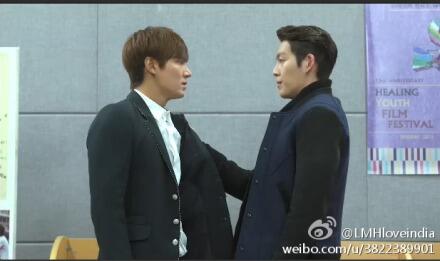 Outside R came and ask ES whether the fight was because of ES. Tan walks out the room and took ES away. R went inside the room and asked why YD is doing all this. He just replied, " I just wanted to meet someone for a moment" (this poor boy really good in words!)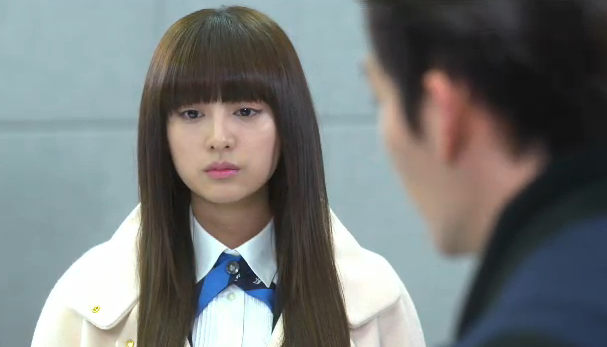 ES and Tan was sitting outside. ES asked Tan why do they keep on fighting (YD & Tan). He replied it's because of the love triangle and also because of their hatred of each other.YD also asked R give up Tan since he doesn't even gave her hope. (yes...please moved on..)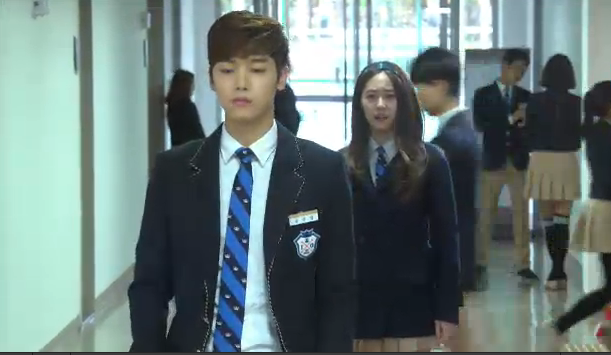 BN was at the corridor and she saw CY calls him but CY just ignores her. She pretended to fall but CY still walks away smiling at her cuteness.
YS asked ES to go and get her script at MS's hideout since she is not welcome there anymore. She also apologize to ES. She reached the hideout and saw YD was there. She offers him a bandaid but he refuse and walks away. BN also came to pick up the script for YS since she needs it badly for ther audition but when she saw ES already taken it, she ask ES to give YS.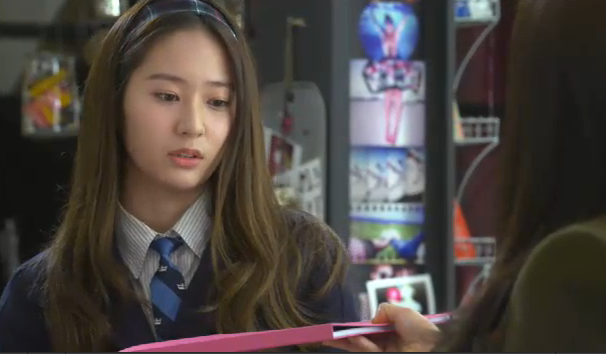 YD was waiting for ES downstairs. He demanded the band aid plaster from ES..haha..such an elementary kid..ES was hanging her uniform back in Tan's house. She calls CY and asked him to make up with BN. ES's mom was preparing for leaving the house and show Tan's mom a list of new maid. Suddenly a maid rushed in and told her that R was there. Tan's mom instruct ES to stay in her room.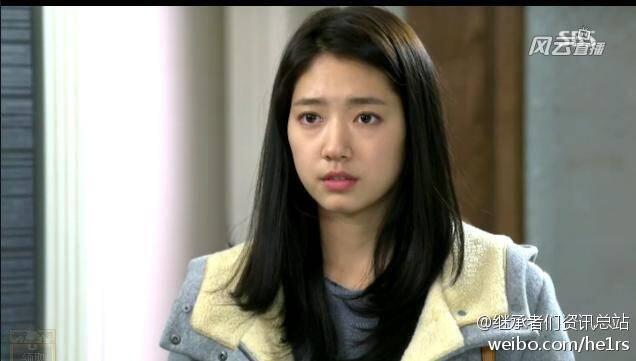 R was acting nice to Tan's mom and asked her why did she pretended to be ES's mom? She also told her that Tan likes ES. Mom denied. R ready to leave the house but saw ES's uniform outside. She checked and saw ES's name tag there. R calls Tan's mom and asked if ES is actually living there? ES is going out for her part time job when she saw that her uniform is gone. She knew that R took them.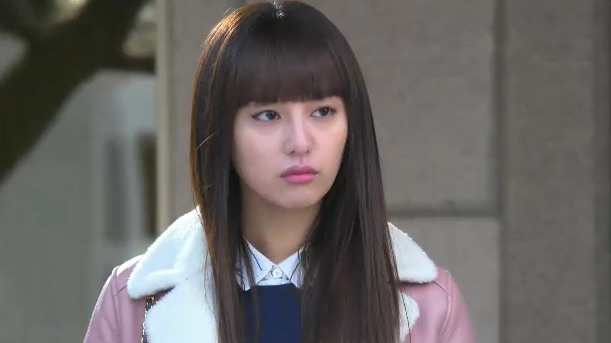 At school, Tan was calling ES but no answer. ES went and asked R where is her uniform? R replied she had thrown it away at the trash place. ES searched for her uniform and was quite sad since her mom bought her the uniform. R asked how does it feel, that's the same way she felt after she saw ES's uniform at Tan's house. She was curious why Tan likes someone as ES (a maid's daughter). ES: " what do you want me to do"? R asked her to clean up the mess so as her mom as a maid. ES was mad and slapped R.
R demand ES to transfer to other school or she will reveal both ES and Tan's secret. ES said she will think about it. Tan came by and asked ES to leave. He said that he doesn't want to be friends with R anymore and don't care what she do to win over his mom.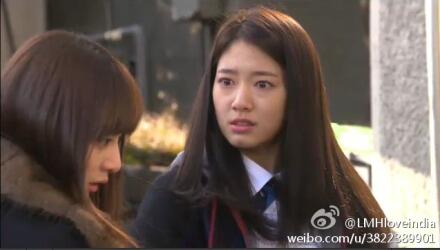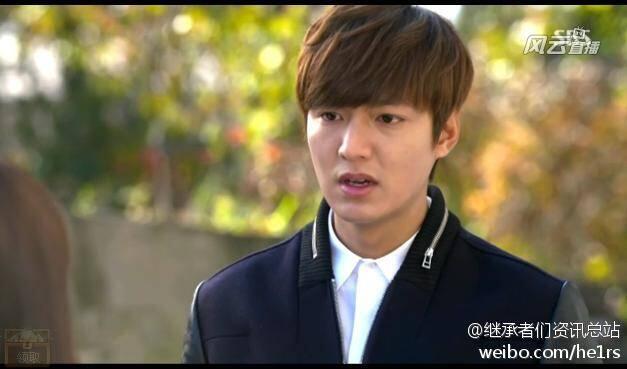 Tan then went to ES at the rooftop.Tan is angry that she even consider transferring to other school. She explain that doesn't want to burden him. Tan offers ES to elope to US together with him but ES reminds him that they will be abandoning their moms.
These two boys yet again are inside JS office, caught for fighting earlier. She demand that both to bring their guardian. YD to call his dad and Tan to call Won. HJ asked them both to repent on their mistakes while they recalls back what they did wrong to each other.
HS and ES was playing cupid when she help BN to make up with CY. BN says that she's sorry to CY and can't breathe without him. HS actually put the mic on and the whole school overheard.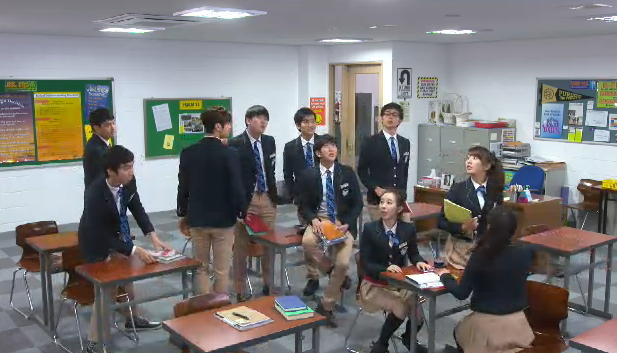 HS finally realized that HJ was teaching at the school but complained to HJ that his first love just gotten farther away.
MS and YD are chilling together. He advise YD to just give up ES since there's no way Tan and ES are breaking up. YD was annoyed. MS asked him if both YD and ES fell into water, what will he do? He said that he will save ES so that she can't ended up with Tan by being guilty being alive. MS said that he always chose sad ending..and what is he going to do with his dad?
Tan walks ES home. ES asked what is his plan ahead? As usual he just teases her. Tan then went to the hotel and waited for Won. Tan said that it's funny that both of them left home but ended at the hotel. He then ask why Won hates him? Won replied that there's no reason to like him.
BN is celebrating her make up with CY by arranging for a party and giving the invitation cards to YD and YS. They apologized to each other. Tan walks by and grabbed a card. Tan went to meet HS at the broadcast room. (I really loved their bromance!!) He asked HS regarding the test and HS told him that he will take the exam.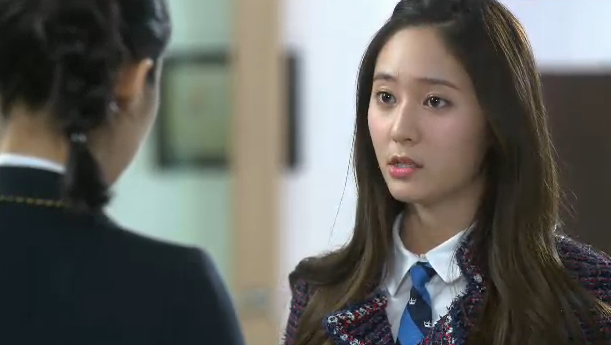 Tan is at Won's room. He saw the docs regarding the stocks matter and call Sec Yoon but he said that he will call him later. At the company Sec Yoon realized that there was a change in the staff list. The told Won that he already started the battle. Won replied whether he wanna be in the list or not? Tan's dad received a call from someone and was getting scolded for changing the personnel.
Tan met this mom at the hotel. Mom came using ES as bait since Tan wouldn't answer her call. Tan said that he doesn't want to hear his mom cry again. Mom told Tan that R went to the house and smell the relationship of Tan and ES. She asked him what is his plan? Tan replied that he planned to be happy and took ES out.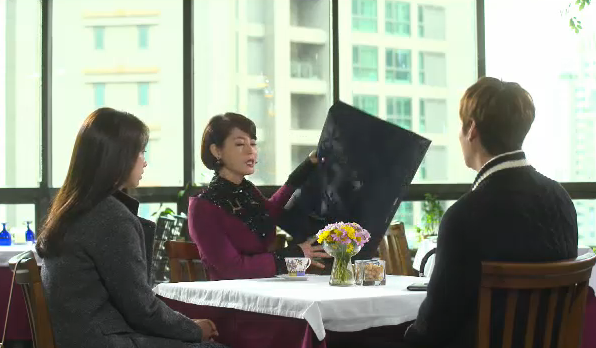 They walked together outside. Tan asked if ES is mad. ES said she is amazed. As usual Tan wants to hold her hand, she offers it but he grabbed her shoulder instead. Tan is angry that now ES is mom's hostage. ES wants to leave for her part time job. Tan backhug her and again embrace her. While hugging ES found money inside Tan's coat. Sec Yoon then called him.
Tan finally realized about his birthday present (the stocks) but Yoon explained that it was put on hold since his rebellion but it will still happen eventually since he's still the 2nd son of Jeguk Group. Tan also realized that he was getting into a game trap.
BN and R are in the hair saon. R tried to dig up where ES works from BN. R also wants to join her party but BN refuse. R then prank YD that she is in front of ES part time job. YD rushes there and she followed him there. They finally met there and she warned him to start worry since how can someone like ES changed him?
R arrived at the party and told all that she ordered coffee.
YD was waiting for ES outside the cafe. He confessed to ES that R already knew where ES works because of him.ES tried to be positive. YD asked ES to call him if there is any problem. ES told him that she has many knights to protect her. He said to ES, "I think it was then I started liking you. Even if you have a lot of knights, call me."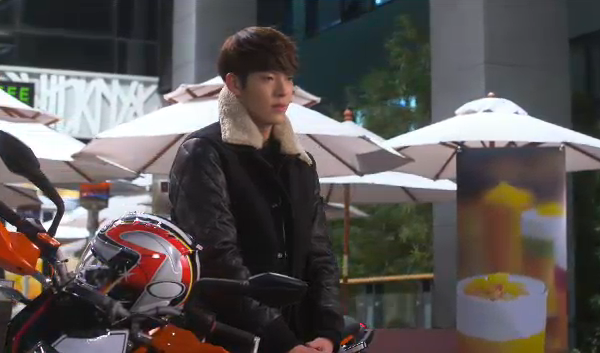 As expected ES got the order from her boss to deliver the coffee to the party. She crossed check with CY to confirm the address. ES is already prepared to face all with her true identity. She text Tan asking him if he's going to the party. Yes he would. ES remind him not to be surprised later. He asked her why but no answer. He tried to call but also no answer. He rushes there..and pass by YD.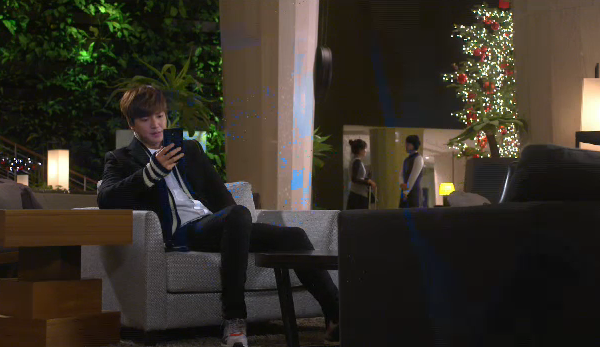 ES arrived at the party and said that she was from the catering service. She puts on a poker face. She admitted that she was working part time and congrats both BN and CY. CY figured out that this was all R's plan. She was about to reveal to everyone when Tan arrived. He ordered her to follow him outside but she said that she's working. Tan got mad and turn over the table. He dragged ES outside. BN was mad at R and MS called YD.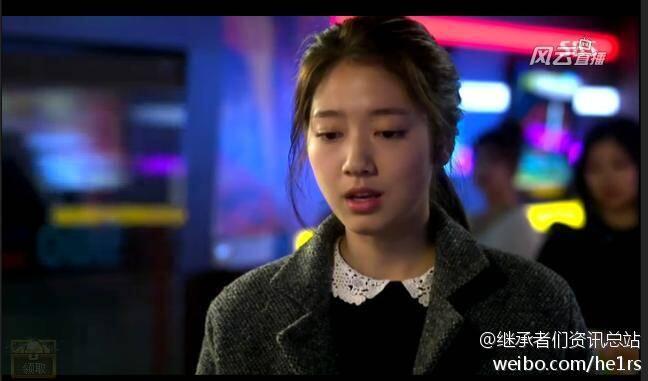 Outside they were quarreling. Tan said that he doesn't want ES to be hurt but ES replie that it was so hard to keep her secret to others. She also said that she wants to confessed to everyone and become relieved later. Tan prevent her saying that she will get hurt but she already made up her mind. She went to get new drinks. R came and told Tan that it would be better if ES is truly a Chul Bu but Tan refuse to talk to her.
ES came with new drinks. Tan said sorry if he put burden on ES declaring that she is Chul Bu. If she's ready then let's go in and face the truth. ES finally admitted to everyone that she's not Chul Bu and was actually on social scholarship instead. YD came, Tan stops CY from interfering.
Everyone got mad at ES for fooling them and thought that Tan's was also being fooled by ES. Tan replied YES! He walks towards ES and said "I thought it would be okay since she pretended to be strong, but now she is shaking."
R left the party. Tan instruct MS to turn on music. He also old the other to serve their own drinks. YD watches over with a sad look on his face.
Lights went out. ES says she did it! Tan says to ES, "Nice to meet you social case, I am an illegitimate, Kim Tan." YD left.
"Let's start the party." Tan steps close to ES and gently takes off her apron, her hair tie, and puts a corsage on her wrist. He gently kisses ES on her forehead, with all the kids watching too.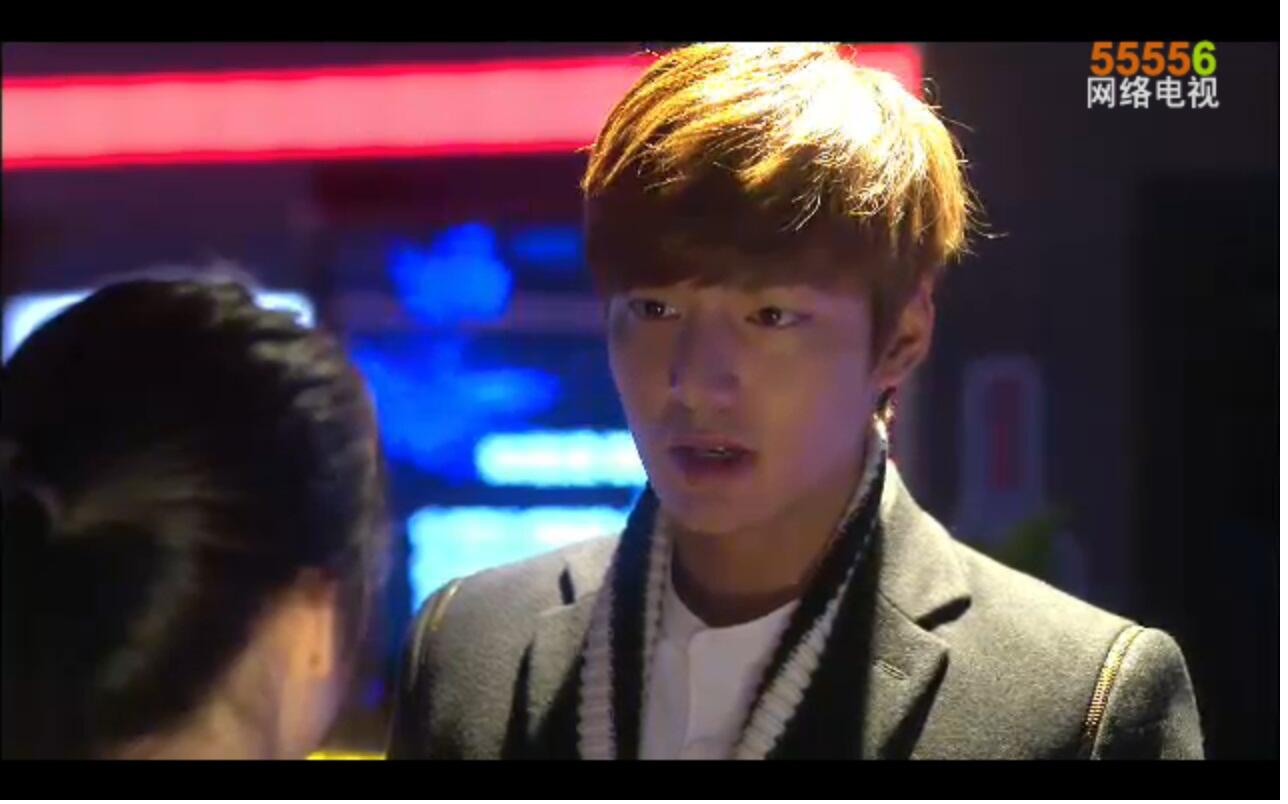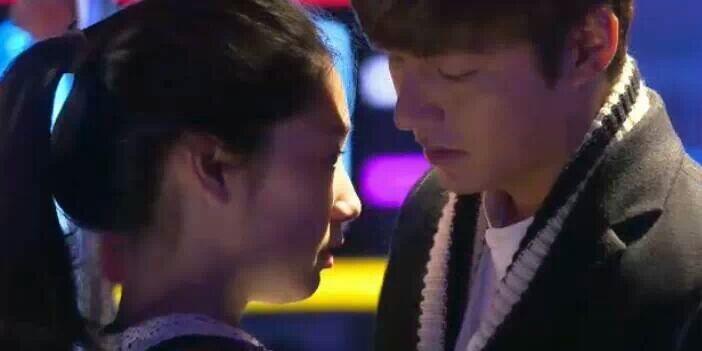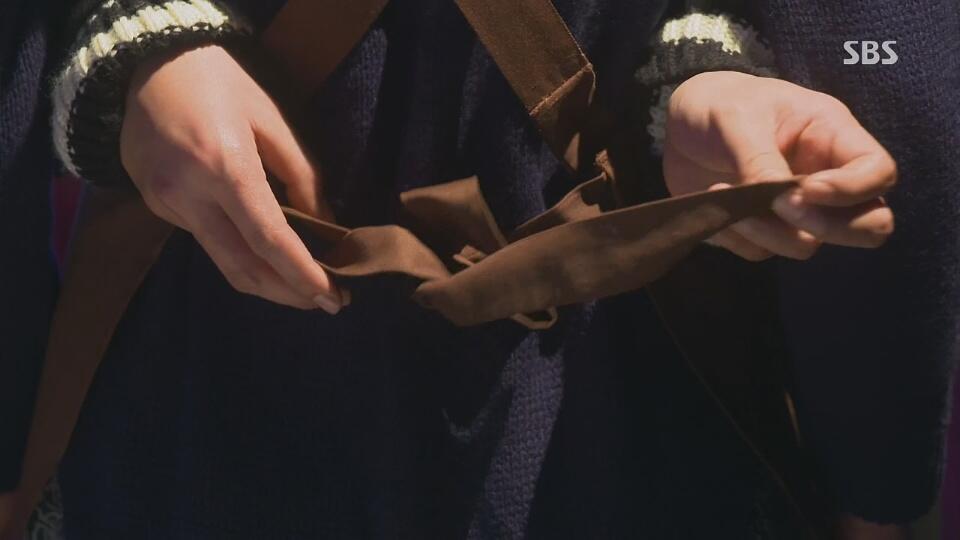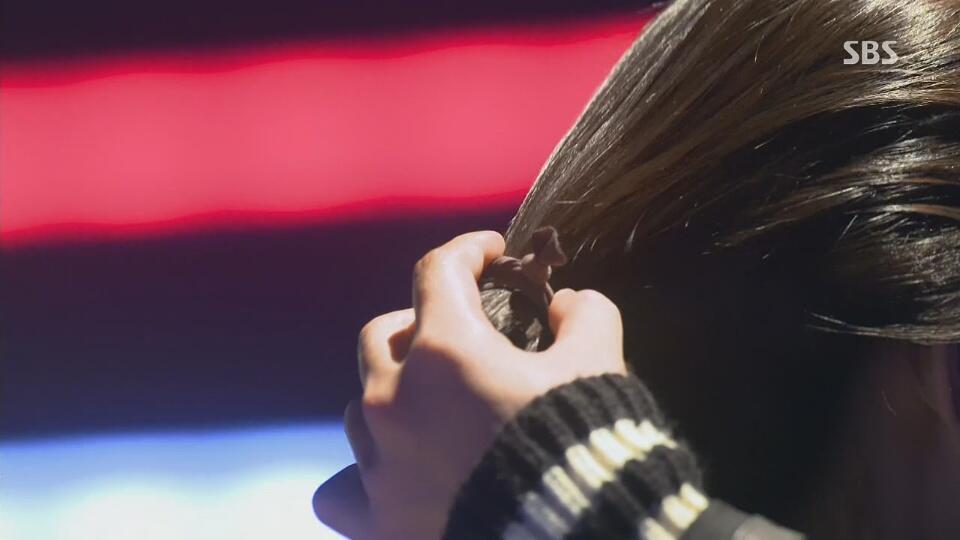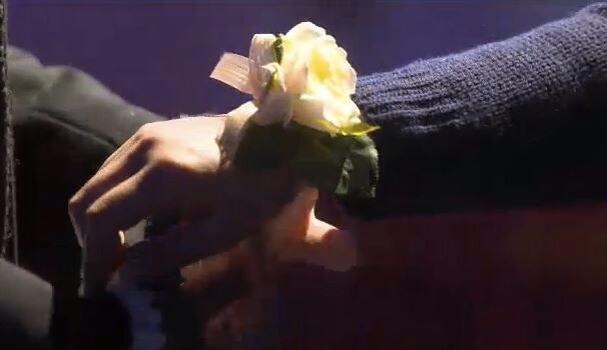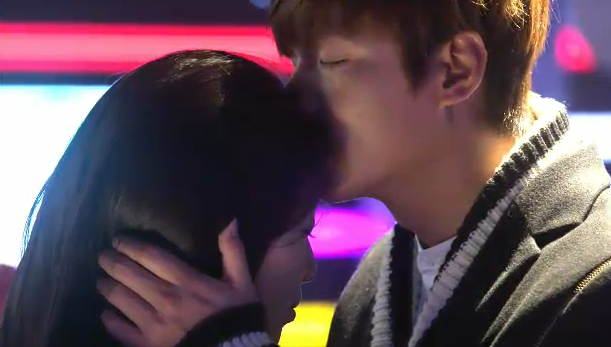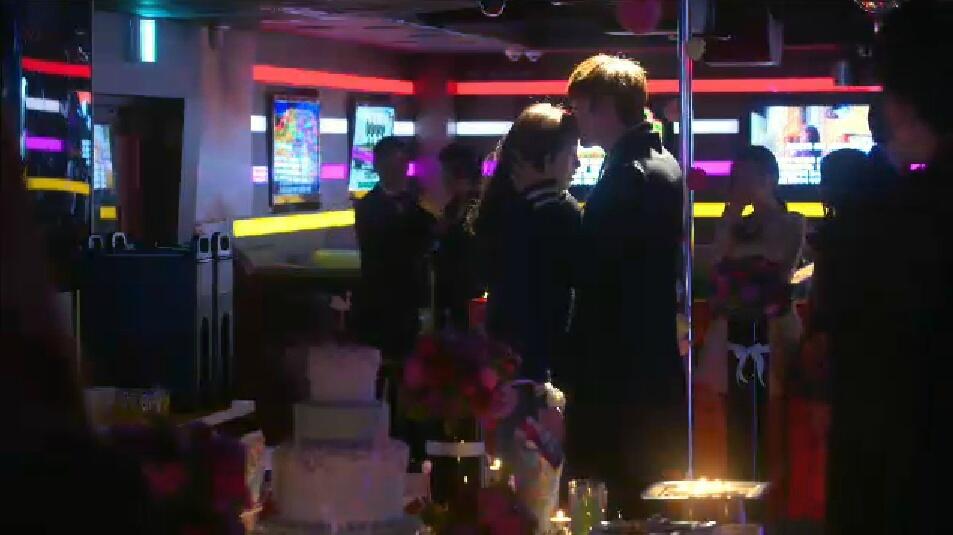 End of Episode 14..so sweet..
Photos: credit to owner